Feb 6, 2020 09:16 AM Central
Michelle Meier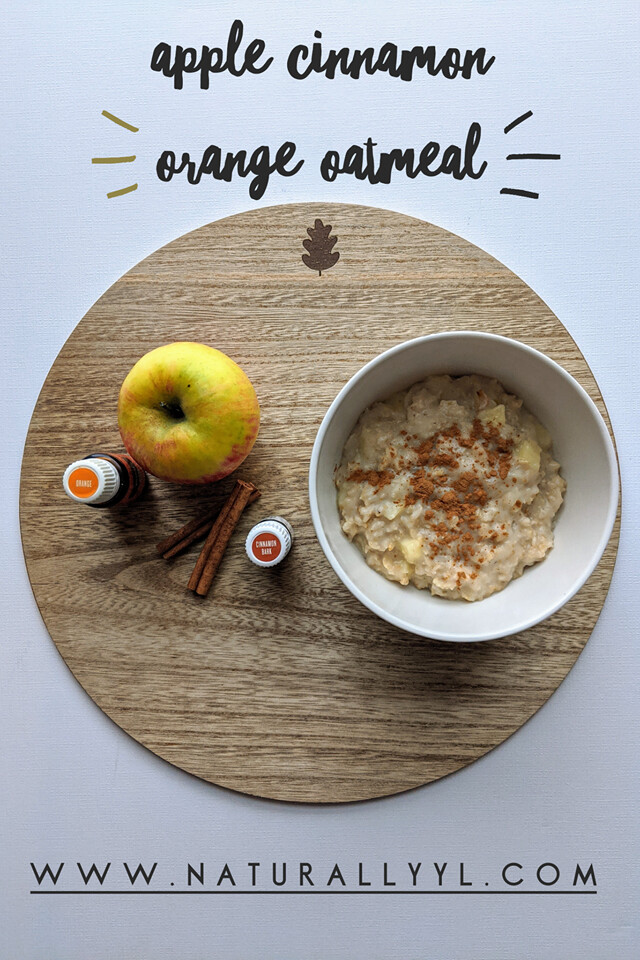 On chilly winter mornings I want something warm and comforting for breakfast. I started experimenting in the kitchen and came up with my new favorite oatmeal recipe infused with Orange and Cinnamon Bark essential oils. It is delicious and keeps me full all morning.
Ingredients
1/2 cup organic rolled oats (not instant oats)
1/2 cup coconut water
1/2 cup unsweetened cashew milk (or other nut milks) I like this brand
1/2 apple, peeled and diced
1 drop Cinnamon Bark Vitality essential oil
3 drops Orange Vitality essential oil
a little raw honey, sweeten to taste
a sprinkle of ground cinnamon
To make
Peal and dice apple
Add coconut water, cashew milk and apples to sauce pan and heat on medium heat
Add in 1/2 cup of oats and stir well
Cook on medium heat until it starts to boil then turn down and simmer until oats are soft
Remove from heat and add in raw honey to taste and Cinnamon Bark and Orange essential oils. Stir well to combine
Sprinkle a little ground cinnamon on top and you are ready for a delicious, healthy breakfast that will keep you full.
More about the ingredients
Orange Vitality essential oil has a bright, fresh citrus flavor. Try it in baked goods, especially to create contrast with particularly sweet items, or combine it with warm spices like cardamom and clove to enhance them. Add Orange Vitality to your drinking water to give it a burst of flavor. Orange Vitality also blends beautifully with other fruity flavors, making it a great addition to smoothies, juices, and NingXia Red®. It also contains the naturally occurring constituent limonene.
Cinnamon Bark vitality essential oil is amazing at supporting your immune system. It is one of the essential oils in the Thieves blend along with clove, rosemary, lemon and eucalyptus. Historically cinnamon is considered the most ancient of spices and was included in just about every prescription issued in ancient China. Cinnamon itself has antibacterial properties to it as well.
Coconut Water
I used coconut water because it gives it a little sweetness and coconut water is low in carbohydrates and sodium and rich in potassium. Most of our diets do not give us enough potassium because we generally do not eat enough fruits and vegetables. The amount of potassium in coconut water is equal to eating four bananas!
Cashew Milk
I recently have cut out most dairy in my diet because my stomach just does not tolerate it so I began trying out different plant based milks and found that cashew milk is my favorite. It is rich and creamy just like milk but without the dairy. It is loaded with vitamins, minerals, healthy fats, and other beneficial plant compounds. to learn more of the benefits
click here
.
To learn more about cooking with essential oils and get a free conversion chart
click here.