Oct 30, 2018 03:33 PM Central
Michelle Meier
I love to cook and when I have time I love to cook everything as close to "scratch" as I possibly can. This way I know what is in the food I am eating and serving to my guests this holiday season. But did you know you can use your vitality essential oils to infuse delicious flavor into your Thanksgiving dinner and every meal?!
So what are Vitality Essential Oils?
Vitality essential oils are essential oils that are specific for dietary consumption so you can rest assured they are safe for ingesting and cooking with. They make it easy to add delicious, bold flavors to your homemade dishes, deserts and even drinks! These dietary essential oils have the same bright, fresh flavor as the herbs and citrus fruits from the market without the chopping, mincing, zesting, or juicing. You don't need to worry about wilted herbs or spoiled fruit, your vitality oil have a long-lasting shelf life.
Vitality Oil Conversion Chart
1 Citrus Fruit, Juiced = 10-15 drops vitality oil
1 Tablespoon Herbs or Spices = 1 drop or less vitality oil
1 Teaspoon Herbs or Spices = dip a toothpick in the vitality oil, swirl the toothpick through the wet ingredients and mix.
Tips for cooking with Vitality Oils
You can always add but can't take away so when experimenting, start with a small amount of essential oil ans gradually increase to get the flavor just right.
Since essential oil flavor can dissipate, add the oil immediately before serving when possible.
It's important that the essential oil's temperature doesn't exceed its flash point or it will begin to smoke as with any cooking oil. Avoid burning by lowering your stove-top temperature, blending essential oils with olive or avocado oil, or adding essential oils after the dish is removed from heat.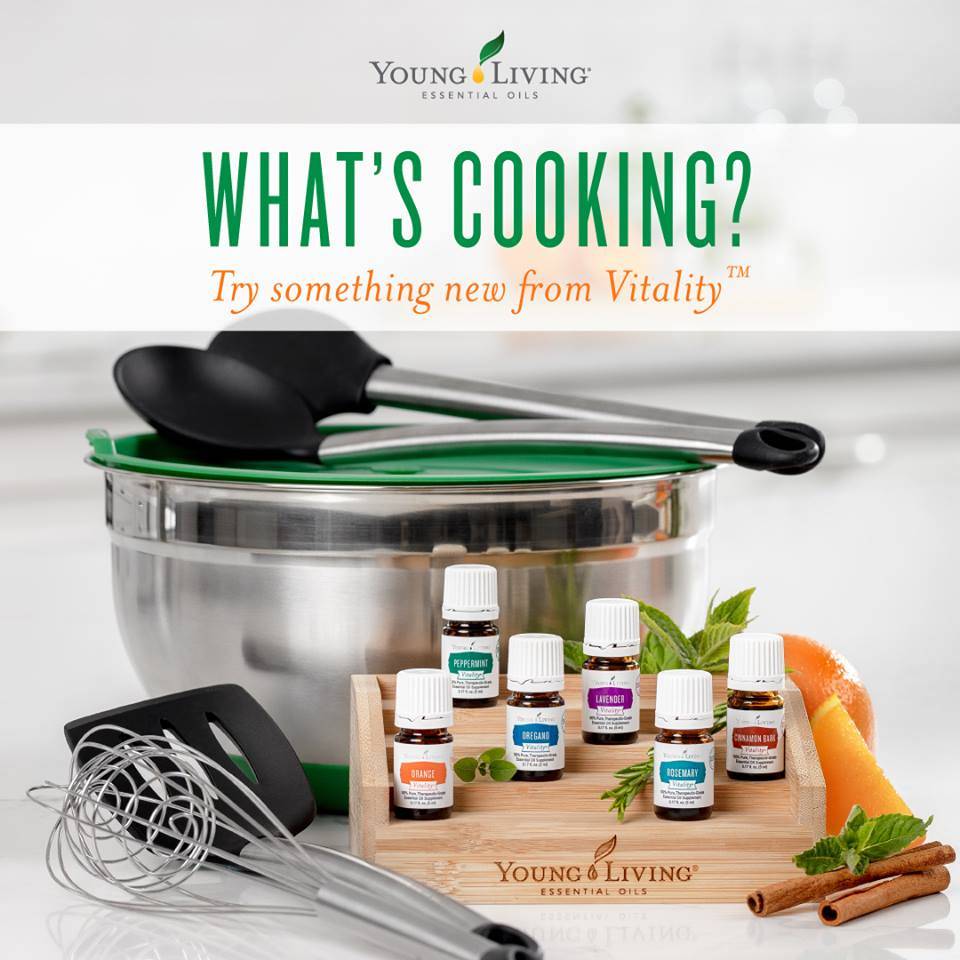 Vitality Culinary Set
This Holiday season Young Living is making it super easy for you to get started cooking with your essential oils with the Vitality Culinary Set. This set includes 5 ml bottles of Rosemary, Lavender, Cinnamon Bark, Oregano, Orange, and Peppermint Vitality essential oils with a beautiful oil rack that I have prominently displayed in my kitchen :) You also will receive a stainless steel mixing bowl, silicon utensils and a cookbook to help you get started.
Stay tuned for some of my favorite cooking recipes perfect for Thanksgiving!