11/12/2018 08:00 AM Central
Michelle Meier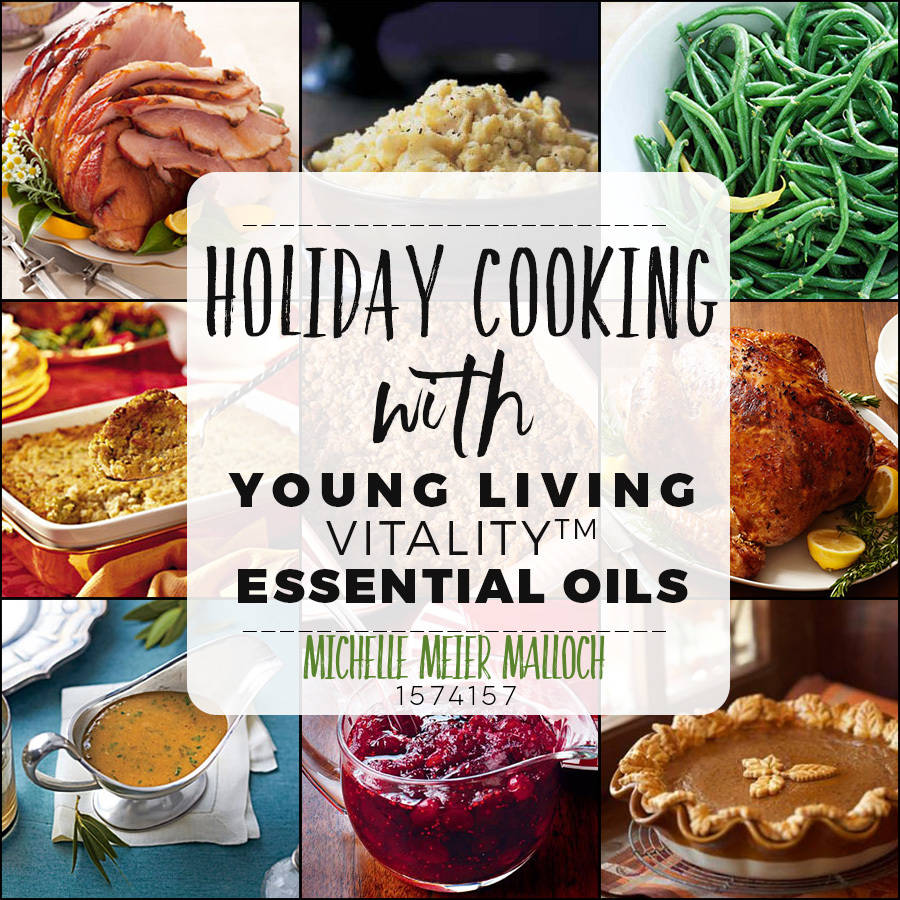 Alright now that I shared my favorite way to cook the best Thanksgiving day turkey let's move onto my second favorite thing... The mashed potatoes and gravy! Seriously when I was a kid I went on some sort of meat strike and literally only ate mashed potatoes and gravy for Thanksgiving dinner for a few years. And whats crazy to me is that my child wont touch them but will eat turkey :)
Rosemary Garlic Mashed Potatoes
I am kind of a mashed
potato snob :) I mean if I am going to eat the starch and carbs they had better be really creamy and good! This recipe is seriously delicious! Now I have altered it a tad here and there and replaced the heavy cream with sour cream and both are delicious. With the addition of
Rosemary Vitality
and
Black Pepper Vitality
these are winner winner chicken dinner (or should I say turkey dinner :)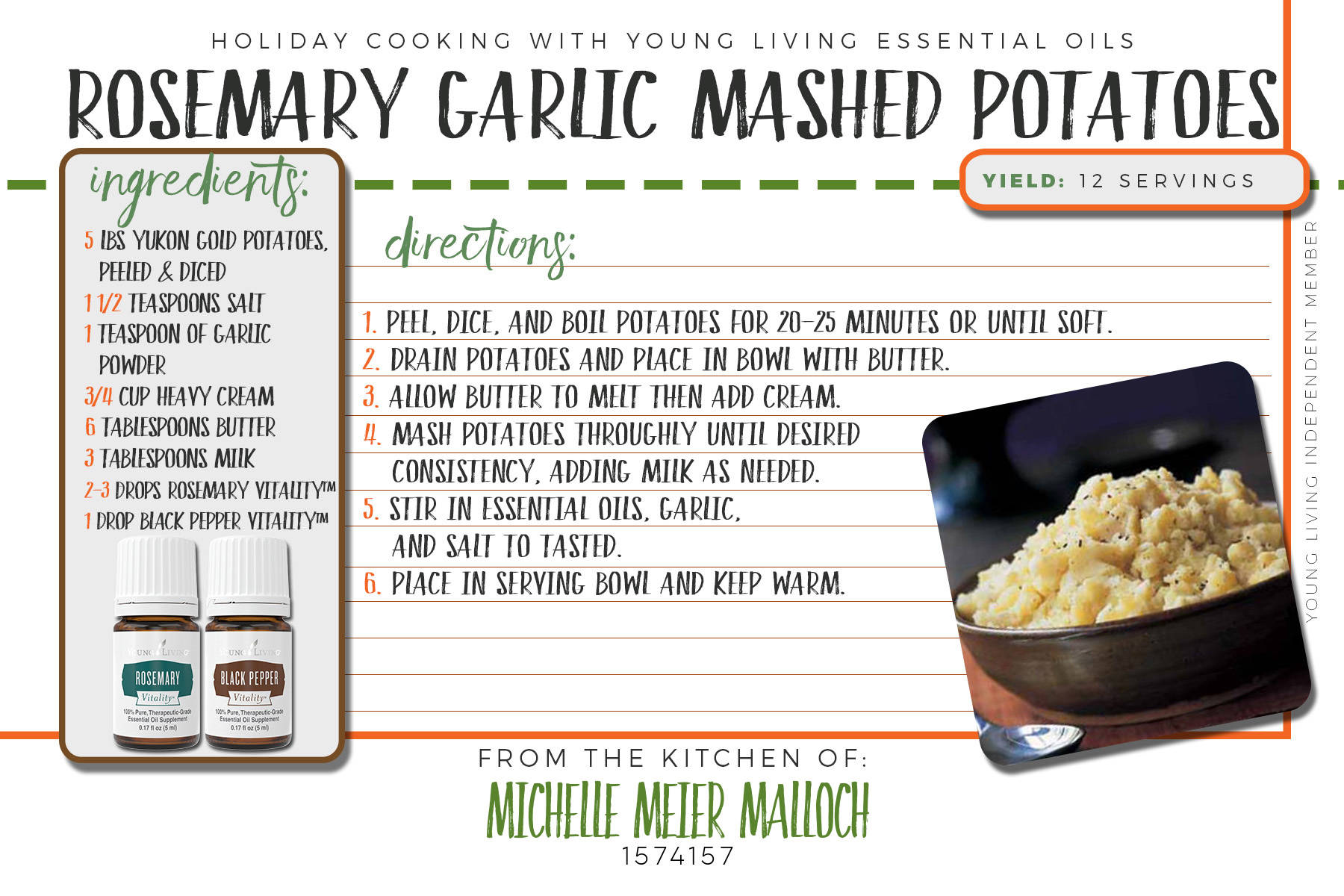 Now in my world mashed potatoes would not be complete without delicious homemade gravy! I seriously love to take the ladle and make a nice big puddle of gravy right in the middle :) This recipe can be made using the delicious drippings from the turkey as well as using stock or a combination of the two. I also like to use pink Himalayan Sea Salt in lieu of kosher salt. Adding in
Sage
,
Thyme
and
Black Pepper Vitality
essential oils give it just the right amount of seasoning but feel free to experiment. I am one of those cooks who throws a little of this and that in while cooking and I totally go off recipe all the time :)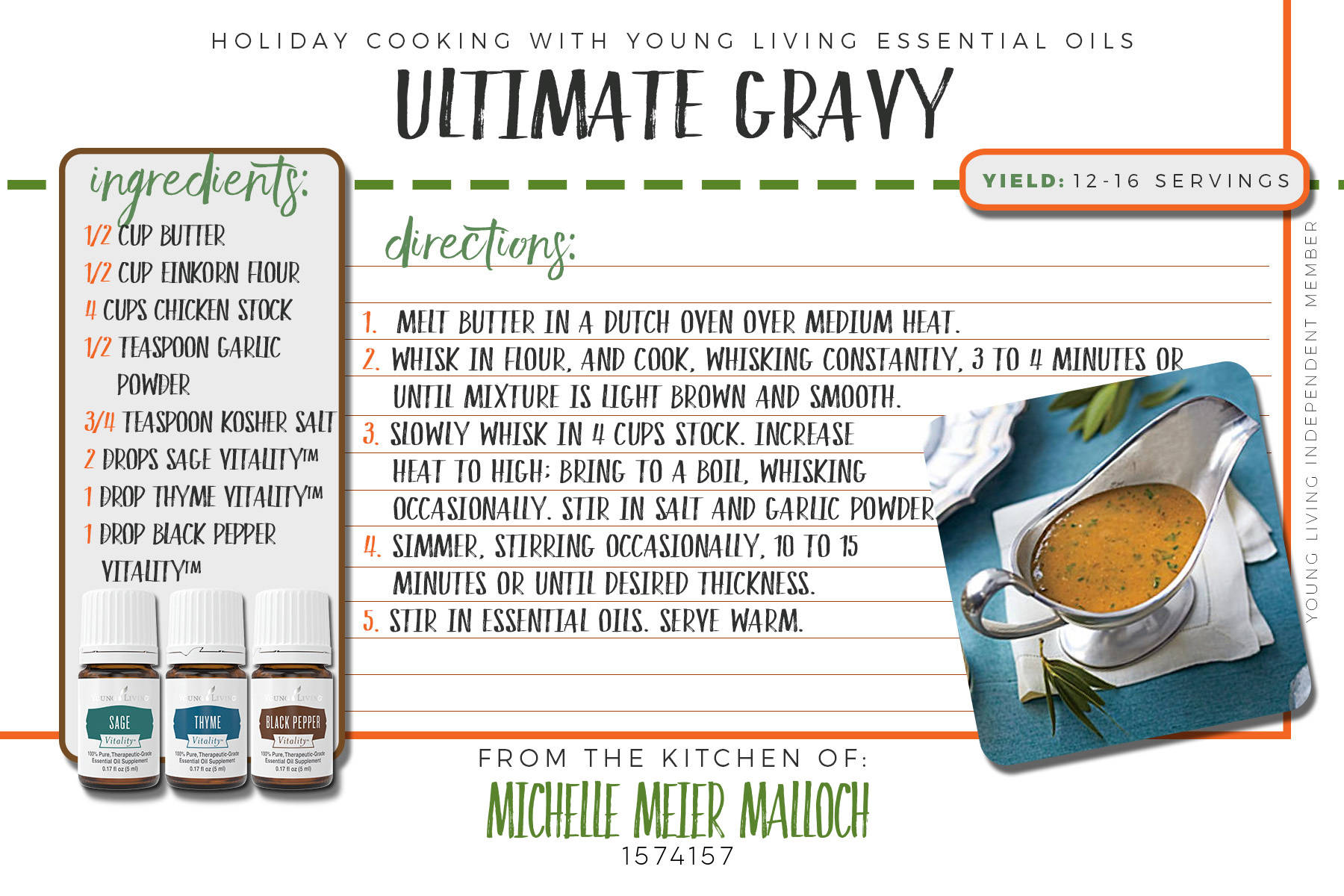 Hope you and your family have a wonderful Thanksgiving filled with family, friends, and delicious food!
Nov 5, 2018 11:34 AM Central
Michelle Meier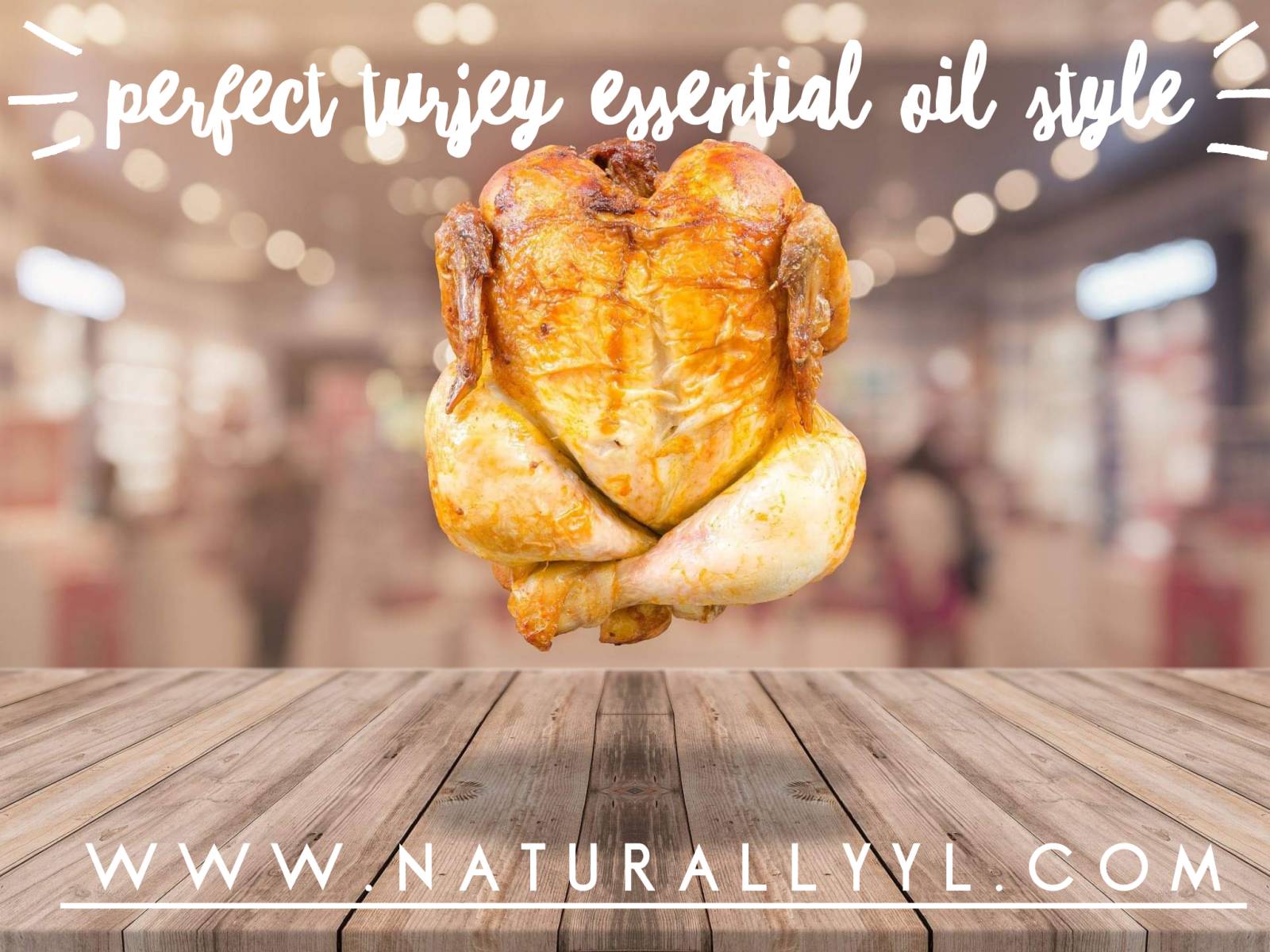 Last week I shared some tips and tricks for using
Vitality Essential Oils for cooking
but now I want to share the by far best way to cook your turkey this Thanksgiving using your vitality essential oils a few other secret tips :)
First things first: To Brine or not to Brine
Do you want your turkey to be super juicy and full of flavor? I am sure no one here wants a dry turkey like the Griswold Family had in National Lampoon's Christmas Vacation. So I love to brine my turkey for about 24 hours in
Simply Organics Turkey Brine.
By taking this extra step you are marinating your bird which will help it stay juicy and actually cook faster.
The next important step is to make this delicious oil infused turkey injection sauce. This recipe is super simple and has a few of my favorite Vitality Essential Oils that I love to cook with such as
Oregano Vitality
,
Thyme Vitality
,
Lemon Vitality
and
Black Pepper Vitality
. Now if you don't have a fancy injector you can use another method. (Picture me saying this in my best Julia Child's impression) Buttering the breasts! Yes this one you kind of have to get a little personal with your bird but its worth it :) Simply separate the skin from the breast and rub the butter mixture all over the turkey breasts.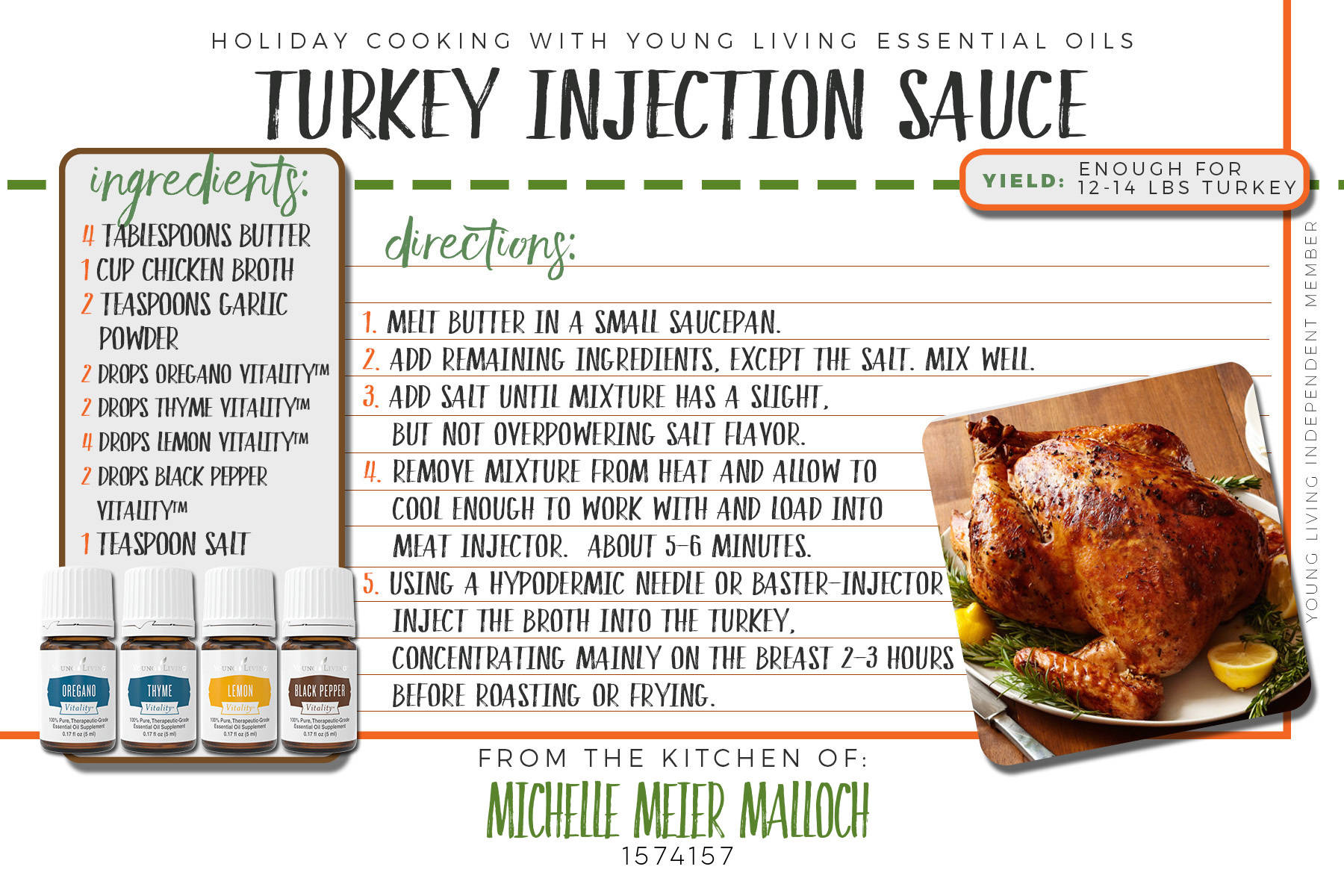 Now I have to share my super secret cooking tip for the best turkey ever! I am not generally one to order anything from an infomercial but the
Turbo Turkey Roaster
is hands down the only way I will cook a bird for the big day! It is basically a glorified mason jar with a metal straw but this little contraption actually steams the turkey from the inside, helping to reduce cooking time to half and keeping the meat juicy. I know you might be a little skeptic here. Frankly I was too and the first time I used it I put the turkey in super early because I did not think it would cook it in such a short time but it did and I will never be without it.
Now that may seam like a lot of work but let me tell you it is all worth it! This is my tried and true method of cooking the best Turkey ever!! Happy Cooking!
Oct 30, 2018 03:33 PM Central
Michelle Meier
I love to cook and when I have time I love to cook everything as close to "scratch" as I possibly can. This way I know what is in the food I am eating and serving to my guests this holiday season. But did you know you can use your vitality essential oils to infuse delicious flavor into your Thanksgiving dinner and every meal?!
So what are Vitality Essential Oils?
Vitality essential oils are essential oils that are specific for dietary consumption so you can rest assured they are safe for ingesting and cooking with. They make it easy to add delicious, bold flavors to your homemade dishes, deserts and even drinks! These dietary essential oils have the same bright, fresh flavor as the herbs and citrus fruits from the market without the chopping, mincing, zesting, or juicing. You don't need to worry about wilted herbs or spoiled fruit, your vitality oil have a long-lasting shelf life.
Vitality Oil Conversion Chart
1 Citrus Fruit, Juiced = 10-15 drops vitality oil
1 Tablespoon Herbs or Spices = 1 drop or less vitality oil
1 Teaspoon Herbs or Spices = dip a toothpick in the vitality oil, swirl the toothpick through the wet ingredients and mix.
Tips for cooking with Vitality Oils
You can always add but can't take away so when experimenting, start with a small amount of essential oil ans gradually increase to get the flavor just right.
Since essential oil flavor can dissipate, add the oil immediately before serving when possible.
It's important that the essential oil's temperature doesn't exceed its flash point or it will begin to smoke as with any cooking oil. Avoid burning by lowering your stove-top temperature, blending essential oils with olive or avocado oil, or adding essential oils after the dish is removed from heat.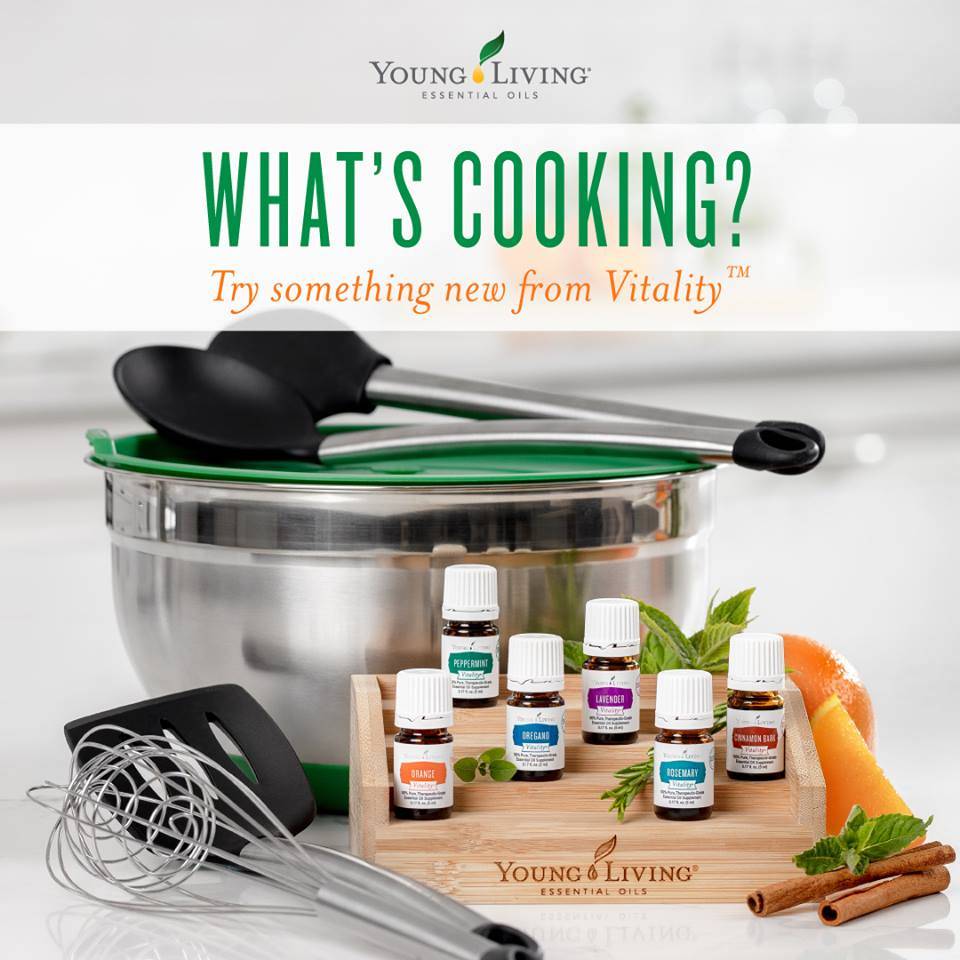 Vitality Culinary Set
This Holiday season Young Living is making it super easy for you to get started cooking with your essential oils with the Vitality Culinary Set. This set includes 5 ml bottles of Rosemary, Lavender, Cinnamon Bark, Oregano, Orange, and Peppermint Vitality essential oils with a beautiful oil rack that I have prominently displayed in my kitchen :) You also will receive a stainless steel mixing bowl, silicon utensils and a cookbook to help you get started.
Stay tuned for some of my favorite cooking recipes perfect for Thanksgiving!