Dec 6, 2018 09:29 AM Central
Michelle Meier
This just in! Young Living just released 4 limited edition products!!!
*Limited Edition Charcoal Diffuser with 15 ml R.C. &Purification (you can even buy these in 15ml!)
*Lavamint Soothing Foot Scrub (Perfect stocking suffer and teacher gift)
*Einkron Crackers (I have been waiting for these to release and snagged a few boxes of each!)
*Festive Feline Set (perfect little gift for you feline friend)
These are while supplies last so when they are gone they are gone. Go to you virtual office, under New & Featured. Everything except the diffuser will be under Holiday and Seasonal.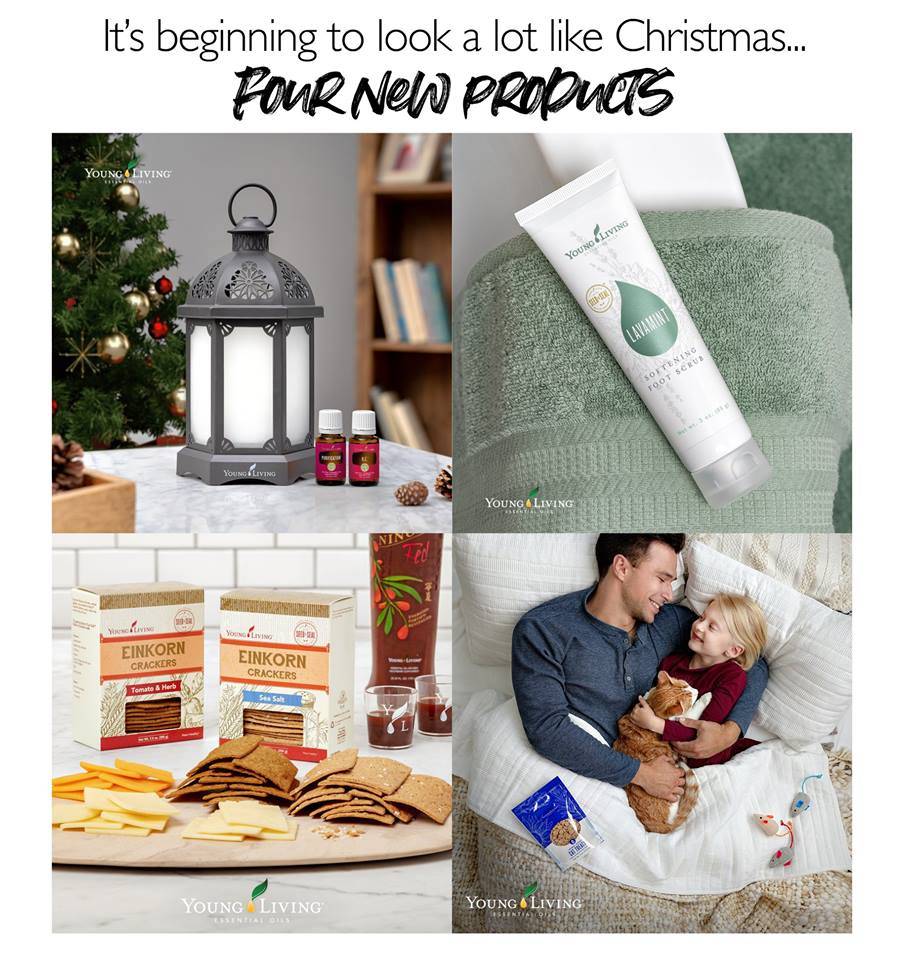 Here are the details:
Our popular Lantern Diffuser is now available in gray! Our Charcoal Gray Lantern Diffuser, with its beautiful metal and glass details, adds a warm and welcoming touch to any room. It also boasts longer run times, multiple diffusing settings, and 11 light features, including an alluring candle-flicker mode. Did we mention this diffuser also functions as a humidifier and atomizer and comes with one 15-ml bottle of R.C.® and one 15-ml bottle of Purification®? Aromatherapy never looked so good!
Item No.: 25733
Wholesale Price: $99.75
Retail Price: $131.25
PV: 50.75
Quick Order Only
While supplies last!
Treat your feet with our new LavaMint Softening Foot Scrub! LavaMint Softening Foot Scrub contains a unique triple-texture, water-activated formula that uses your body's heat to transform the cool gel into a milky lotion. Featuring four natural exfoliants—black volcanic sand from Iceland, volcanic rock pumice from Italy, diatomaceous earth from the seas of Denmark, and coconut shell powder from France—this luxurious scrub reveals soft, silky, healthy-looking skin.
This foot scrub is rich in emollient and moisturizing properties, with glycerin and squalane to hydrate and condition the skin. The soothing Lavender scent combined with Peppermint's cooling sensation refreshes and revives tired feet.
Item No.: 25152
Size: 3 oz. (85 g)
Wholesale Price: $24.75
Retail Price: $32.57
PV: $24.75
Quick Order Only
NFR: Yes
These wholesome crackers are a hearty, delicious snack available in two unbeatable flavors: Tomato & Herb and Sea Salt. These crackers bring the subtly sweet taste of one of the world's most ancient grains to your holiday table. Available for a limited time only, grab a box or two before they're gone!
Tomato & Herb Item No.: 25115
Sea Salt Item No: 25113
Size: 7.5 oz.
Wholesale Price: $6.00
Retail Price: $7.89
PV: 3
Quick Order Only


The set includes our tasty, crunchy, convenient Animal Scents® Cat Treats in a gorgeous, new royal blue packaging and three delightful plush mouse toys. How can your feline resist? These gifts are great for your own furry friends, as well as animal lovers who love pampering their pets.
Item No.: 22914
Wholesale Price: $8.75
Retail Price: $11.51
PV: 8.75
Quick Order Only
Ready to take advantage of these limited time only amazing products!